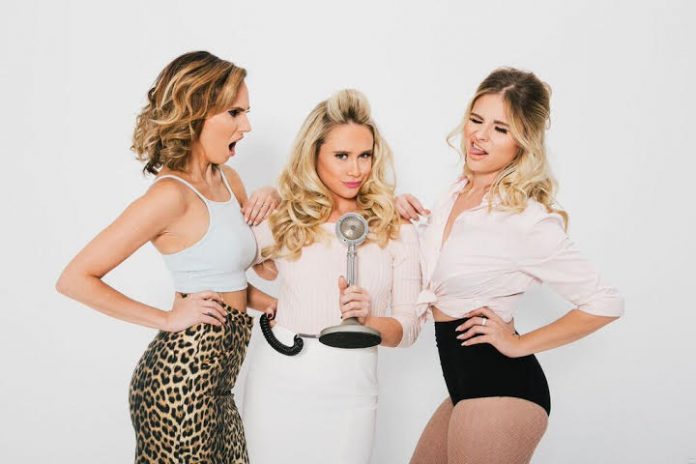 Has it ever been 9 AM on a Tuesday and you just really wanted a mimosa and some girl talk? Same. Luckily for all of us, The Ladygang podcast exists. Made up of Becca Tobin (you may know her as Kitty Wilde on Glee), Keltie Knight (entertainment reporter extraordinaire on The Insider), and Jac Vanek (sarcastic fashion designer and CEO of Jac Vanek), The Ladygang has struck the perfect balance between political incorrectness and standing up for one another.
The podcast has seen guests everywhere from Lea Michele and Ashley Tisdale to Jana Kramer and GloZell Green, but the three girls behind it are what makes the LG what it is. With a little bit of cynicism and a lot of laughter, the dynamic trio behind The Ladygang will have you cracking up on your way to class, school, or the gym. We caught up with Keltie, Jac, and Becca for a little advice, some inspiration, and to hear what makes the Ladygang what it is.
What is the mission behind the Ladygang, and why did all of you decide to start the podcast in the first place?
Keltie: We honestly just got sick of not being able to relate to so much of the media that is out there for women, plus we are all pretty scared of losing our jobs, so we wanted to be our own bosses and create something that we could not get fired from!
Becca: During my time on Glee, I did several interviews and cringed after watching all of them!  I was like "who is that girl?!"  I wasn't being myself AT ALL.  I was just answering every question with the most appropriate and non controversial answer I could think of.  Then I realized (as cheesy as it sounds) that  it was because I never felt "safe" enough to be myself.  I was never in an environment that made me feel comfortable enough to let my hair down and maybe even talk about poop a little. So…that's what we created!
Jac: Keltie & Becca approached me with this idea for a podcast about what it's *really* like in Hollywood, which I thought was funny because I'm totally outside the entertainment world.  But they said we could drink champagne when we recorded, so it was a hell yeah for me.  It's interesting, because I think the mission behind the podcast has evolved since we started into an unapologetically raw, hilarious, and (hopefully) relatable look into womanhood.
Who's your *~dream~* podcast guest?
Keltie: Kate Hudson, Oprah, the girl named Eloise who left us a negative review on iTunes, and all of our ex-boyfriends.
Becca: Jessica Simpson, Chelsea Handler, Kristen Bell
Jac: Larry David (if you listen to the podcast, you understand my obsession), Julia Louis Dreyfus, Emma Stone.
What's YOUR ish moment?
Keltie: 100% being named to Entertainment Weekly's "Must List." We did not even bribe them! It really made us believe that were creating something special.
Becca:  The first time a girl walked up to me and recognized me from the LadyGang.   Of course, I appreciate the moments where people recognize me from Glee, but there's something  different about being recognized for something you created all by yourself (with two other blonde bitches).
Jac: I have to agree with Becca… I'd had people approach me in person about my clothing line before, but more often than not now when I get approached in public it's from someone who listens to the podcast.  It's just so rad that people actually care about our random blabberings about our lives.
If you could tell your college self (early 20's) anything, what would it be?
Keltie: Spend way less time worrying about guys. Stop messing with your hair and eyebrows. Learn to eat healthy and workout because your metabolism is about to screw you. Really think about what you want to do with your life, and create it any way you can. Do not worry about the tiny details, you won't remember them later, and LISTEN TO LADYGANG!
Becca: Don't do things because you want to prove people wrong, do them because they make your heart happy.  Appreciate your silky smooth thighs and wear jean shorts often,  because one day your thighs will look like quilted Chanel bags.
Jac:  Stop crying over boys who wear jeans tighter than you.  Stop trying to be gluten free for no reason because life is short and bread is delicious.  Stop waxing your eyebrows because they're never gonna grow back and you're going to complain about them for the rest of your life.
Signature drink and signature coffee order
Keltie: What is coffee? We only drink mimosas.
Becca: London Fog… Cause I'm classy AF
Jac: Black coffee and Miraval rosé (RIP Brangelina)
The best advice anyone's ever told you:
Keltie: It's actually something we learned from each other: To negotiate. This is something that men excel at, that we struggle with. Ask for what you deserve, and say no if it's a bad deal. I think that through trial and error  we have learned we are far more powerful than we ever could have imagined.
Becca: My dad always said that you will have many careers in your lifetime, so be flexible and open to new opportunities.
Jac:  My mom told me to stop taking things so personally.
Your funniest celebrity encounter:
Keltie: We have too many to write here, you have to listen to the podcast. But I will say, we've ALL BEEN there, and we all ended up dating and marrying "regular" guys…so clearly, it wasn't the dream we thought  it would be.
Becca: Every single one because celebrities are weirdos.
Jac: I mean there was that one time I used to think I was talking to Aaron Carter on AOL Instant Messenger. (Spoiler alert….wasn't him).