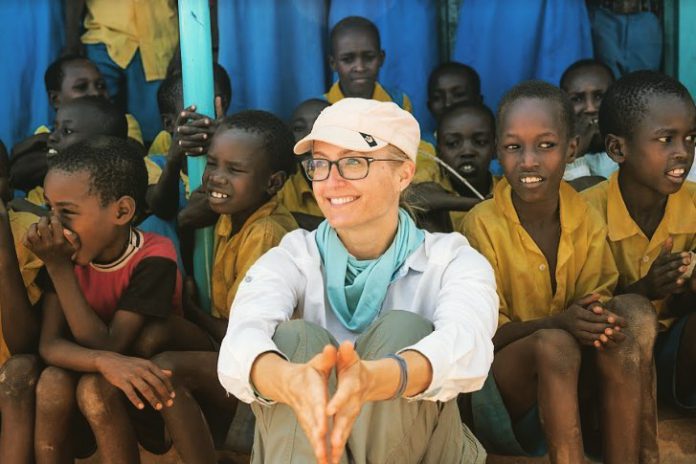 Somehow it's the simple indulges like water that shows us what privilege really looks like. In a country like the United States, water is an easy pleasure; just go to a sink, a shower, a grocery store, or a fountain and it's yours. In countries like Africa, women can spend an estimated 200,000,000 hours collecting water every day.
That's why Sarah Evans, Founder of Well Aware, created a nonprofit that provides innovative and sustainable solutions to water scarcity and contamination in Africa. Well Aware funds and implements life-saving water systems to drive economic development and build self-sufficient communities.
What inspired Well Aware?
I was approached by a friend whose father is in a tribe, one of the prominent tribes in Africa. She had just traveled there and came back. She was super passionate about replacing some of the cattle and goats that we dying in this village because that is their main livelihood and they were struggling significantly. She recruited me to help because of the legal background and since I'm traditionally philanthropic. I started looking into the community and the area and I realized what they could truly benefit from was a long lasting source of clean water. It was then that I proposed that we raise money for a water well instead. That was back in 2008.
How does clean water change lives?
Nothing can be improved or progressed without a source of clean water. It has to be there for anything to be able to grow or thrive or be produced. Be that a medical clinic, agriculture, food security or education; nothing is going to work unless there's clean water. It's the foundation of any type of improvement or development.
With water being the beginning of anything, it's especially important for girls and women too because they're the ones who do the walking for the water.  But young girls when they hit puberty, if there is no source of clean water at the school and they miss a week of school every month; they get behind and can't go. You think about sanitation and hygiene when you're menstruating, if there's nothing there then you're not going to be at that school. It automatically takes girls out of school.
If you could tell your college-self anything, what would it be?
If you don't yet know your way, it's OK. I didn't find my passion until my late 20s, but when I did, I knew it would be my life.
What's the best advice anyone's ever told you?
If I make peace with the "worst case scenario" – in any situation – I won't be afraid of what might/could happen. This has made me a braver and bolder leader, as well as a better parent.
What are your future plans for Well Aware?
We are scaling our work to serve more communities every year and moving into new countries. We are also consulting for other NGO's to train them in our sustainability model; and, we are developing a new technology that will pilot at the end of this year to make water system maintenance and troubleshooting available for communities in the field.
What have been some of your favorite moments of being the Founder of Well Aware?
All of my favorite moments are in the field with the people with whom we partner. I like to share this moment on our first well, in particular:
There was no clean water for kilometers in this village.  Many of the children were ill from the contaminated sources they used, and the school was poorly attended since the kids were sick or walking all day to bring water home.
There was one child who took a special liking to me.  She followed me around most of the day, and I held her a lot of the time while she twisted my hair and rubbed at my skin.  She was six years old, but she looked about three and weighed what a two-year-old might.
I will never forget how her faced changed when she saw the clean water shooting from the pipe during the pump test.  It was awe and curiosity with a quizzical skepticism.  I tried to tell her that this was going to be her water, and I think she understood.
She repeated "maji, maji", every few minutes, and I tried to explain that we couldn't drink the water quite yet, not until it was determined to be potable.
As soon as we got the go-ahead to taste the water, I filled up an empty bottle from our van and brought it back to her.  I held her in my arms while she tipped the big bottle back and drank the whole thing in what seemed like a few seconds.
And, when the bottle left her lips, her eyes met mine, and they sparkled with joy.  I held her tighter and felt hot tears drip down my face.
It was at that moment that I knew my purpose was this.  I opened my heart to the devastation and pain that not having access to water causes, and I set my mind to solving the problem and eliminating suffering, one baby girl at a time.
Do you have any advice for women who want to start a nonprofit of their own?
Be very thorough in learning what's already being done and how. One of the things that sets Well Aware apart is our success rate. When I launched the organization, I studied the reasons for high failure rates for water systems, as well as how other organizations were approaching this work. These efforts have built a strong organization. Also, never, ever lose your connection with the people or cause you serve. I see myself as a conduit for the people who support our work with our beneficiaries. If my perspective were to change, my judgment could be compromised (I've seen it happen many times in other organizations).