If you're like me, "What will I wear?" isn't just a question; it's a lifestyle. I'm always trying to figure out what will be comfortable and look like I still attempted to put myself together this morning. I worry quite a lot about my wardrobe, and about 75% of my Pinterest favorites have to do with clothes.
However, there is only one thing in my life that makes me especially frantic when it comes to my fashion choices and that is my period. Since I'm twenty years old, I think I should have a handle on it, but I don't…at all.
Through copious searching and personal experience, I've pinpointed a few pieces of clothing that let's all of you fashionable girls do your own thing and style it as you please and comfortably accommodate those lovely symptoms/side effects of having our time of month.
Boyfriend Jeans
image via Looking Good Feeling Fab
As much as we wish we could live in our skinny jeans and leggings, bloating is a very real and very annoying challenge brought on by Aunt Flo's visit. Enter the boyfriend jeans. Comfortably loose and usually very soft (especially after a few wears and a few washes!), boyfriend jeans don't require us to stretch them out to be comfortable, and they respect any bloat and smooths right over it.
Joggers

image via Fashion Fade Magazine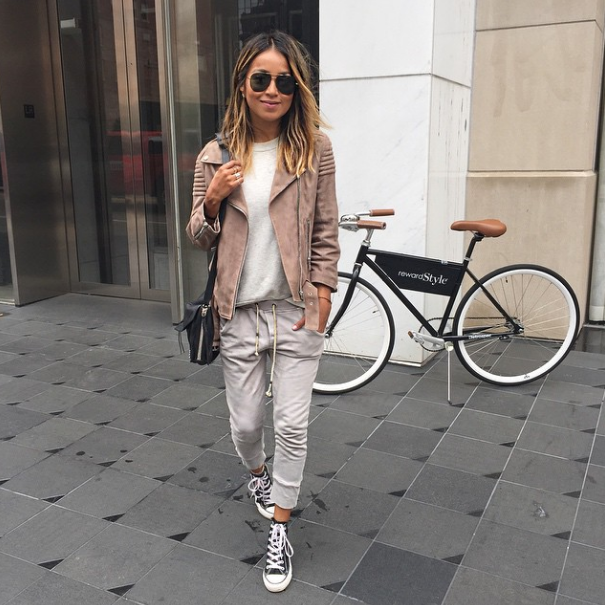 So comfy, so cozy, and the closest thing to sweatpants that you can wear in public without being called "sloppy". Instead, you're called "chic" and no one presumes that you may have slept in them—which is an added bonus when you're constantly exhausted and had cramps keeping you up the night before. You can dress these down or up—just switch out your shoes, shirt and throw on some jewelry and BAM! You go from "ready for bed" to "ready for school/girls' night/errands" in less than five minutes. And that's beautiful.
Oversized Sweatshirts

image via Louboutins & Love


This is a personal favorite because, depending on how you style it, this piece can also be dressed up or down. You can wear it with your boyfriend jeans when you just need to be comfortable and skipped wearing a bra due to your girls being tender. (I relate so much.) If you have a pocket on your sweatshirt, you can even stick a hot water bottle in there so it's resting against your stomach/pelvis in case of cramps.
On the flipside, you can also dress it up, as seen here. You can wear a skirt and make it girly; tuck a collared shirt under it and be preppy; even wear a blazer on top and look professional AF. The options are endless!
T-Shirt Dresses

image via What Pixies Wear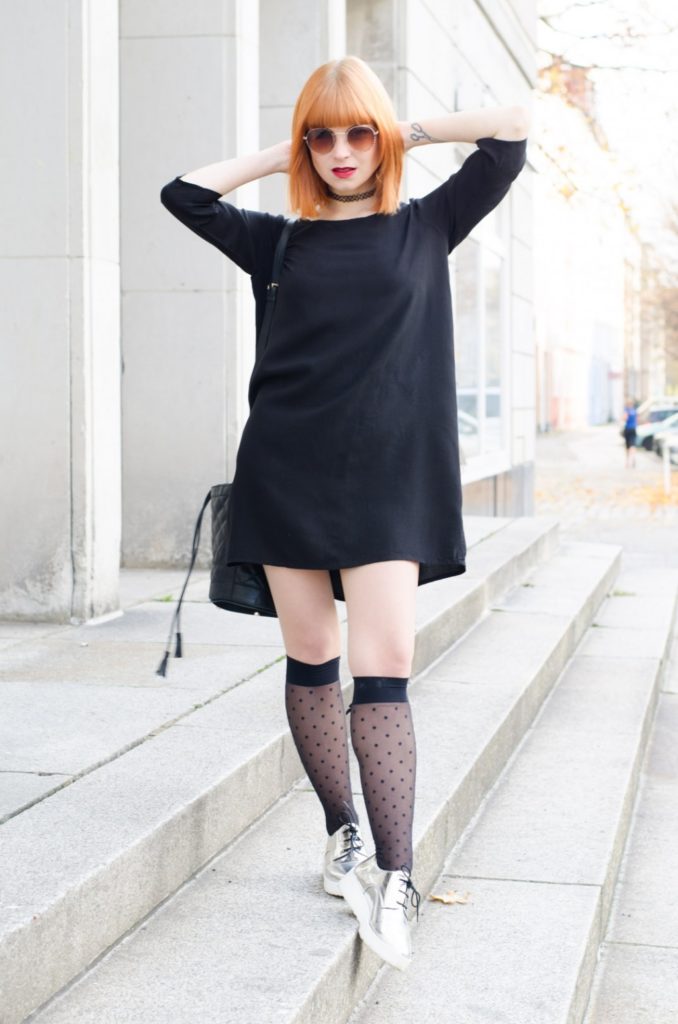 Speaking of looking professional AF…the t-shirt dress is especially handy if you can't get away with jeans at your internship or desk job, but don't want to bother with dress pants. Just throw a blazer on top, maybe some leggings underneath (if you're like me and need peace of mind when it comes to your pad moving/any possible leaks being stopped) and you're in business, girl!
Whatever Makes You Feel Confident

image via The Dainty Bouquet
Honestly the most important piece of clothing on the list, because you decide this one. Every girl (and as such, her menstrual cycle) differs from the next, in wonderful ways. Only you know what your body is like and what you need the most during your period, and if that means heels and skirts, or sweatpants and sneakers, that's your choice. As long as you're comfortable and having a healthy period, you do you! You'll already be killing the fashion game, no matter what you wear.