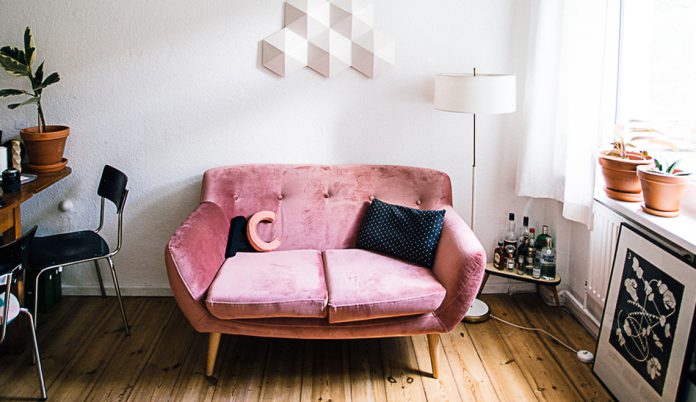 It's easy enough to buy a silkscreened pillow with GIRLS RULE printed on it, but how often do we really dig into the feminist cause when we decorate our personal space? Interior decorating often gets written off as just painting your room a certain color but it can be a creative act that makes you–and everyone who visits your house–think about women's role in society and all the work yet to be done. Here are a few ways to transform your spot into a space that celebrates women.
CELEBRATE FEMALE ARTISTS
As a die-hard Vincent Van Gogh fan, I know how easy it is to be swept up by male painters and not take a beat to appreciate the genius of our female artists. Challenge yourself to actively choose artwork created by women, whether it's a postcard from a Yayoi Kusama exhibit or a Frida Kahlo print you bought from a street cart. Go to exhibitions highlighting female artists to get a sense of what you're looking for. Hit up your local gallery and buy postcards from female artists. If you're on a college campus, go to school art shows and check if any of the female art students are willing to sell their paintings–get 'em while they're cheap! Once you start looking for exclusively female artists, you'll realize how few of them have had commercial success. The field of photography is incredibly male-dominated but we don't realize it because we rarely think about who is behind the camera. Check out female photographers and female subjects. If you're into film, choose movie posters with female directors (again, a reality a check on how few female directors have had large-scale success). Celebrate female writers as well, filling your bookshelf (or book pile depending on how organized you are) with female authors. Tear articles by female writers that you enjoyed out of magazines and paper your walls with them–it'll make the space more unique and give your friends something to read while they wait for you to find your shoes!
Get political
You don't need a yard to buy a yard sign! Get one from a campaign you support and post it to your door or window. Proudly display your Hillary merch–and keep up on women running in local races in your area. Buying buttons, prints, and mugs directly from the campaign supports the candidate and lets your guests know exactly where you stand. Keep up with the merch artists have been cranking out for Women's Marches across the country–there's more than pink hats! Check out the print culture of second wave feminism. The See Red Women's Workshop put out a dope collection of posters encouraging women to fight back in the 1970s that you can buy and print online. Buzzfeed just did a great piece on the posters in which they interview the original members of the workshop.
Read up on the women who built the interior design industry
We often write interior design off as matching a set of pillows to a sofa, but interior decorators put together entire buildings, from the paint to the doorknobs. Research the women who built the interior design industry and model your space after their work. Some designers actually have their own product lines if you want to support them–but keep in mind that those products will be far more expensive than the coffee table you planned to pick up at Target! The Netflix documentary Abstract has a great episode on Ilse Crawford that takes you inside the decisions behind interior design and the depth of what goes into putting together a hotel, home or restaurant. Crawford discusses the need for "empathy" in interior design–making people feel comfortable and making homes that are habitable rather than insane for the sake of pushing the envelope. Respect for interior design, and for women working in all design fields, creates a culture where women's contributions are respected.
Give women your money
At the end of the day, this is the cornerstone of any feminist space. You have buying power, so use it. Shop the stores of female artists, designers and furniture makers. Women from Vermont to Australia are building beautiful handcrafted furniture. The Women's Center for Creative Work in LA produces crafts made by an all female artist collective–and they do gift cards! Etsy connects you to thousands of female artists from around the globe. Ten Thousand Villages is just one of dozens of organizations that sell fair trade products hand-crafted by women. Remember that just because a company runs an add that promotes women doesn't mean it actually is sending more cash into women's bank accounts. Large companies that profess feminist values are often just trying to hop on the "femvertising" train. Andi Zeisler's fantastic book We Were Feminists Once dives into how feminism gets co-opted by advertising campaigns and mainstream popular culture. Hang a Barbara Kruger print by your door to remind you not to fall for the marketing!
featured image here