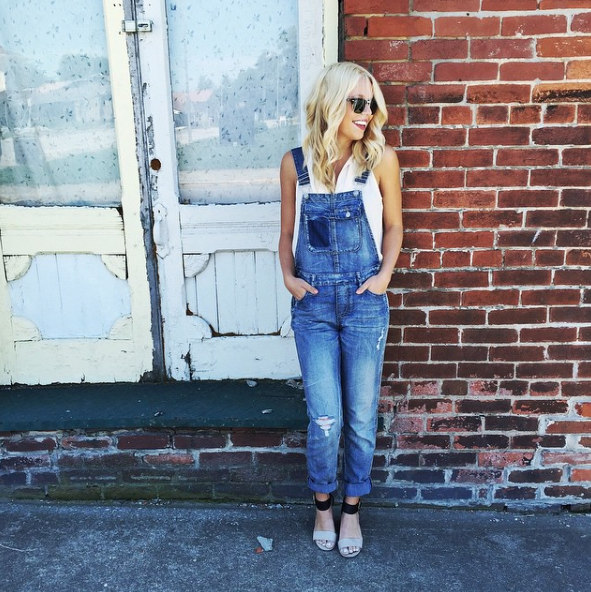 Sometimes trends feel universal— from chokers to half-up bun hairstyles, there are some fads that every fashion lover jumps on board with. Enter, overalls. Overalls are a very specific trend that holds an array of (often strong) opinions. One of the most controversial aspects of overalls is found within the styling. It's easy for overalls to go wrong, whether they're ill-fitting, farmer-esque, or childlike. Yet somehow bloggers and fashion innovators alike seem to constantly pull off the look. Luckily, there are a few styling tips that can steer you in this direction, assisting you in rocking a pair of overalls. Follow the Lala's guide and nail this fun trend just in time for the summer!
1) Keep it simple with a pair of black denim overalls.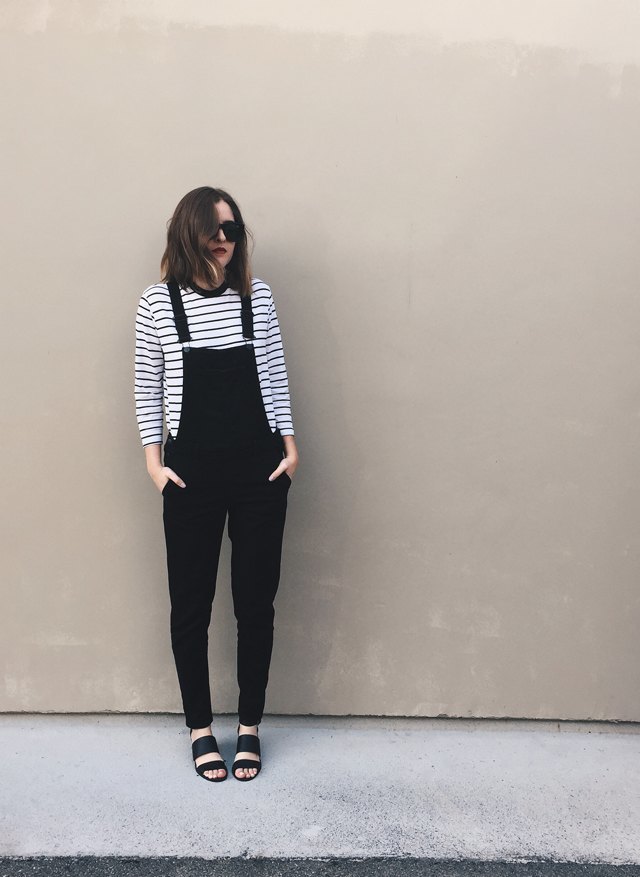 One of the easiest ways to embrace the overalls trend is by keeping it simple! Gravitate towards a dark, black denim wash. This allows for easy styling— they can be paired with essentially anything! Keeping the summer season in mind, pairing the overalls with a simple white t-shirt and sandals is a great go-to. Make sure the overalls have a tapered leg, almost like a skinny jean. This allows for a sleek and simple look.
2) Opt for cut-off overalls.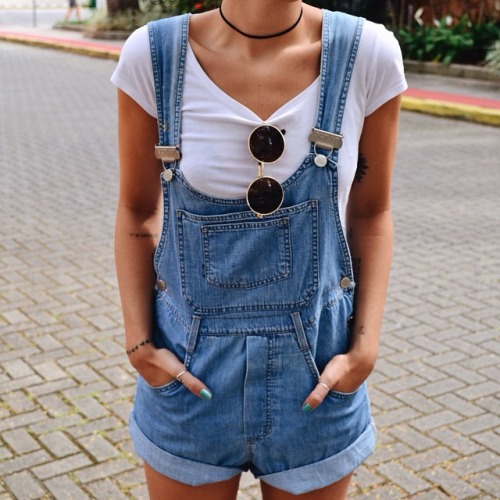 For some people, overalls just look and feel like too much. For a less constricting feel, as well as a more subtle statement, try a pair of cut-off overalls (or shortalls). This is also a great option for shorter girls, as the proportions on cut-off overalls are a lot easier to get right when you're dealing with half of the length. Cut-off overalls look great with a thin and fitted turtleneck, or a high neck tank.
3) Find an alternative to denim.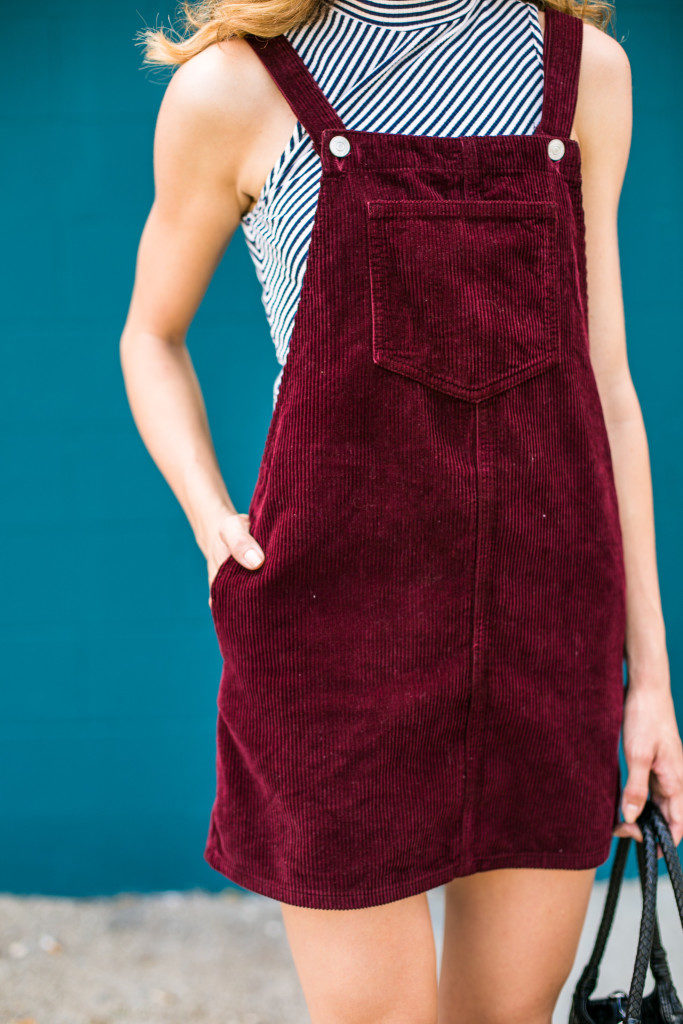 There are so many varieties of overalls, and many exceed just denim! From linen to jersey to corduroy, there are tons of alternative fabric options that may suit you better than denim. Scoring a unique pair than classic denim is a great route to take! You'd be surprised as to how many overall variations you can find at your local thrift store or good will. If you can afford to be more specific, right now we are loving army green linen overalls paired with a white t-shirt!
4) Take a risk with flared overalls.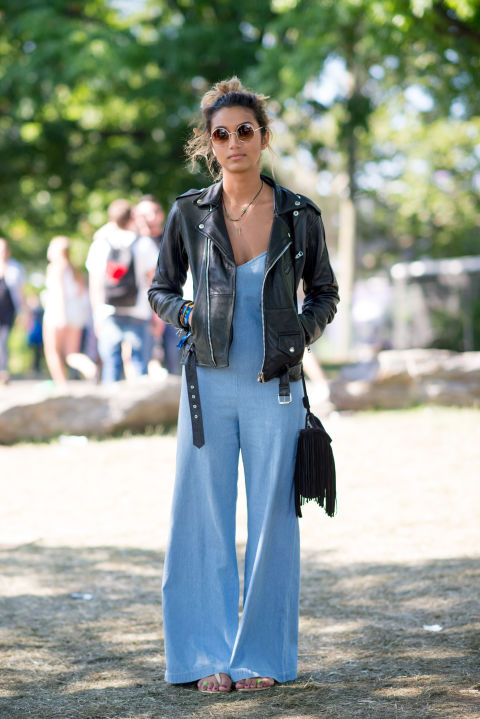 Sometimes the best way to embrace a tricky trend is by going all out. One of our favorite overall styles are wide leg or flared fit. Look for a dark blue denim wash, and try pairing them with a fitted striped t-shirt. Remember to accessorize and style minimally, as the flare already provides a significant wow factor. This is a look that is guaranteed to turn some heads!
5) Accessorize.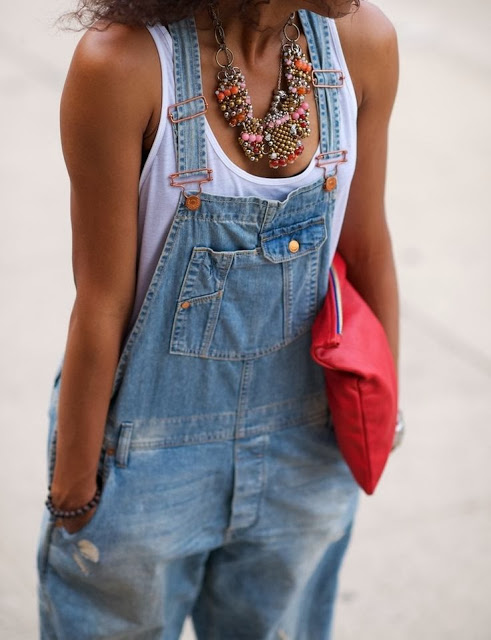 A simple and fun way to rock overalls is through accessorizing. After you find the best fit and style, try playing with interesting jewelry, like statement necklaces or chokers. An additional way to accessorize is through layering. While your main focus might be on what goes underneath your overalls, think again. Overalls can be styled nicely with jackets and coats, from sleek leather jackets to faux-fur. Just keep in mind that there aren't too many rules with overalls— accessorizing in your own unique way is part of the fun!