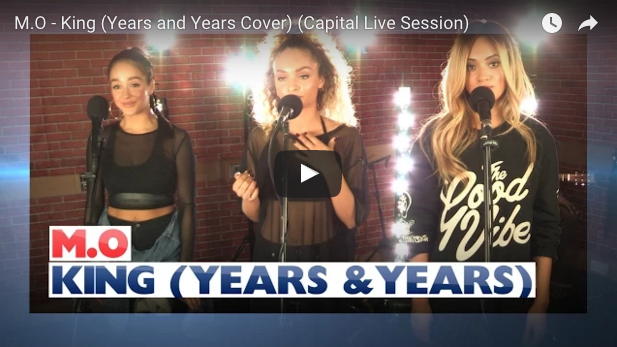 As per usual instead of doing the increasing pile of homework sitting on my desk… I found myself on Youtube for 3 hours this past weekend watching hours of videos. After watching the customary Jimmy Fallon and James Corden late night videos (which are hilarious if you never watch them) I ended up stumbling across the BBC Radio 1's Live Lounge page.
This channel specializes in having today's hottest artists come on and cover other artists famous hits. There were 219 videos on the playlist (yes, I did listen to them all) and so many good covers from popular artists and many British artists I had never heard but are now on my Spotify playlist.
Here are 10 of the best covers from artists across the web that helped me get in sync to study for my Econ test.
King (Years & Years): M.O.
Wow. Can these girls sing it. Originally started in the U.K. this girl group is currently trying to break into U.S. music charts and if their songs sound anything like this cover they will have plenty of success.
XO (Beyoncé): John Mayer
I'm sure many of you have heard this cover before because IT'S SO GOOD. If you ever need a chill relaxed night but still want to jam to some Beyoncé this John Mayer cover is perfect for you.
Your Song (Elton John): Ellie Goulding
The original song by Sir Elton John is a legend in itself should never be covered… is what I said before seeing Ellie Goulding cover it. Ellie puts her own twist on this and makes it an awesome girl anthem.
Jolene (Dolly Parton): Miley Cyrus
There aren't many songs that give me goosebumps but this cover by Miley did. She puts so much soul into this song you really do feel like Jolene is stealing her man. #MakeDollyProud
How Will I Know (Whitney Houston): Sam Smith
Again, this song hits me every time. Sam Smith who has the voice of an angel singing Whitney Houston? I'm Done. Nothing more needs to be said.
Love Me Like You Do (Ellie Goulding): Circa Waves
Yes, this is the same song we heard over and over again in Summer 2015. Circa Waves is a British rock band who again is trying to break into the U.S. music charts and this cover will certainly get them attention with their boy band persona.
Problem (Ariana Grande): Hozier
Hozier distinct voice is what makes this cover amazing. The song takes a quick turn and sounds more rock and roll then pop. I don't see a single problem with this cover. Hehe pun intended.
Fine China (Chris Brown): Jessie J
JESSIE J. Gosh this girl has some pipes and SLAYS this song. If I couldn't love this song enough her cover has made me fall in love again with Fine China.
Bad Blood (Taylor Swift): Alessia Cara
Three Words. She Sings Kendrick. Alessia Cara covers this song perfectly and slows it down to really makes you feel the effect of the words in this stunning song. Can she join T-Swift's squad now?
Torn (Natalie Imbruglia): One Direction
So sad that 1D is taking a break. Luckily, this cover by them before breaking up will leave you loving them even more with the cover of this amazing 90's love anthem that every girl at the time was singing.