My mom scanned the clothes still lingering in my closet.
"You aren't going to pack your tulle skirt?"
I laughed.
"No way, mom."
Months before I left for England, I began my packing list. I scoured the Internet, reading every piece of advice I could find. (I even read this one from the Lala.)
Nearly everyone offered the same basic suggestions. Pack things that coordinate. Pack muted colors, so you can mix and match. Pack classic, staple pieces.
Not a single website suggested I pack a giant, fluffy, tulle skirt.
I spent hours contemplating my clothes and sticking to those guidelines. I had followed the rules to a "T." My study abroad wardrobe was a monochromatic dream.
But looking at my choices, I felt like something was missing.
After another long night of study abroad prep, I was scrolling through Twitter, and I saw a Michael Kors quote that stopped me in my tracks.
It said your closet should be 70 percent "meat and potatoes" and 30 percent "icing and fluff."
I went straight to my closet and grabbed all my funkiest pieces. My "I woke up like this" t-shirt. My emerald green crop-top. My embellished Anthro clutch. My plum Hunter rain boots. And, of course, my tulle skirt.
I squeezed each item into my bag.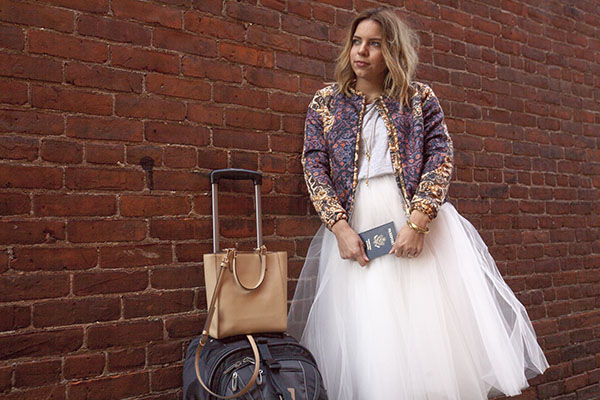 Two months later, I can truthfully say that Michael Kors is one smart cookie.
I'm thankful for my meat and potatoes, my jeans and t-shirts, when I'm packing a carry-on for a weekend in Prague. I was also thankful for that green crop-top on St. Paddy's Day. And I'm thankful for those Hunters every time it rains, which is A LOT considering I live in England.
No, they're not my typical, everyday pieces, but they're the pieces that add spice to my wardrobe. (And although I admit I have yet to bust out my tulle skirt, I know it will be just what the doctor ordered on a dreary, homesick day.)
And who said a tulle skirt can't be a staple piece? I found three different outfits combining it with my meat and potatoes.
So here's my advice. Pack the staples, but don't forget to give your flashy pieces some love. Push yourself to find ways to mix them with your basics, because that tulle skirt deserves some adventure, too.
 study abroad packing advice