It starts with one simple inquiry: how far would you go to gain following on social media?
Sounds like a question out of the Purge, right?!
But here comes the mind-boggling answer: it seems as if a significant amount of Instagram and Social Media influencers would go pretty damn far—far enough to exchange their hard-earned cash for 100k on Instagram and an elated sense of egoism. It's true: bloggers and influencers have been known to purchase their followers or likes.
THE TEMPTATION
Remember how you thought it was fishy that a blogger you've stumbled across has close to four thousand Instagram followers, but they only get 50 or so likes on their photos? It seems fishy, because point blank: it is fishy. But the point isn't that it's fishy— the point is that it's wrong. And, I've seen it far too many times to let this issue go.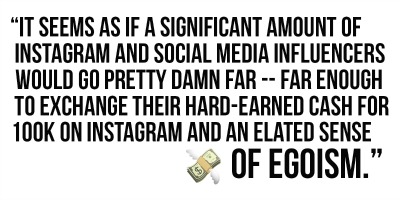 Now, let's backtrack a second. It actually seems pretty tempting, right? All it takes is a simple Google search, and thousands of sites will come up giving you price ranges. Instabuyagram, (kudos to Dr. Seuss over there for coming up with that name) allows you to purchase 100 followers for $1.88 cents to 5,000 for $33.99. That's it?! Any "blogger" could probably spare some loose change for that. But at the end of the day, it doesn't come down to the money. It comes down to the deception.
INFLUENCERS WEIGH IN
Recently, Austin blogger, Ashley Hargrove, from Dressed to Kill, wrote all about this dirty practice that sits in the corner of some influencer's resumes. Hargrove focusses largely on Instagram's recent algorithm change— and how that alteration has effected bloggers (and small businesses) on various scales. "[With the new algorithm], it's been quite suspicious," she writes, "to see some accounts I follow get 500-1000 likes in 5 minutes right off the bat and then they cap out at 1200 after 24 hours. Guys, this is not accurate nor is it real." She also notes that it's nearly impossible to authentically gain 500 to 1000 followers a day, even if you have a large following, "Guys, why are you going overboard and spending money on a daily basis trying to look cool??" she asks, "We all know you're interaction is FAKE." Amen to that.
But this issue didn't just appear within the last Instagram age of 2015-16. Racked actually published an investigative piece on the subject back in 2014. The article quotes European blogger, Siel Devos, another individual, like Hargrove, who was fed up with the practice: "You begin to realize after a while that it's all fake," she told Racked. "The focus is not on fashion, it's about how they can get bigger and richer and more famous." While this article does an excellent job at examining the practice from all angles and expresses that many bloggers are unhappy with the disingenuity, I can't help but wonder why this discussion hasn't been plastered all over news outlets every time a suspicious influencer comes under the spotlight. Why aren't we talking about this more?
THE LEGALITY
Here's where the façade shatters. Buying Instagram followers can actually get you into trouble, particularly if you're a blogger looking to work with brands.
We've all seen the #sp or #ad posts, where a blogger sits on a froffy bed holding up an opaque blue-gummy bear, exclaiming about how her hair has grown 45 inches thanks to this little sugary candy. But as you
would guess, Sugar Bear Hair, like other brands of its kind, most likely finds influencers to advertise for them based on following, and that's where it gets tricky. "Companies pay bloggers based on a perception of influence," Alice Wright, founder of GOMI blogger forum, told Racked. "When a company gives a blogger $50,000 to be a brand spokesblogger or for a product placement under the impression they are reaching 250,000 fans, they are being defrauded if 50% of those fans don't exist."
And here's where it gets even more tricky, in real life, that actually presents grounds to sue—because you signed a contract and by lying in the agreement, you're basically committing fraud. But, "since it's blogland, they seem to get away with anything," Wright elegantly puts it. Since the world of social media is still a blossoming entity, concrete laws might not be able to apply to something that's kind of abstract and just "floats around in cyberspace," as some may say. It's funny though, you would think that since people are putting real, hard, cold money toward these "floating" objects in cyberspace, a law or two should comply.
THE UNDERLYING EFFECT
But here's where it gets really dark: buying followers doesn't just allow you to deceive people who do follow or engage with you, it allows you to deceive yourself. And for that reason, above all, it should be a situation that no blogger, influencer, or decent person should ever put themselves through. It's absolutely fascinating to realize the spell that social media has cast over us—the fact that we are so readily willing to sacrifice our money and integrity for the forbidden fruit. But, enough is enough.
While we can't physically undo what's already been done, we can stop paying attention. Because at the end of the day, these influencers will be knocked off their faulty towers when they lose valuable and real!!! followers like you. This is something that's hurting everyone who's involved: the online communities who follow, the fans who just want to engage, and most importantly, the bloggers who do what they do for the right and authentic reasons.
So it's time to rid of the smoke and mirrors. We're done being fooled.