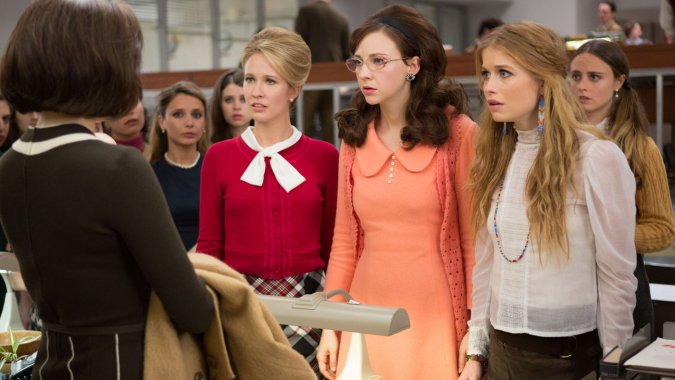 Over Thanksgiving break, I found myself with enough free time to start a new series. Usually when this happens, I spend too much time trying to find an interesting show and I don't end up watching one. It takes a lot for me to get hooked on a show. However, as I was scrolling through Amazon Prime, a new show caught my eye: something called Good Girls Revolt. Inspired by real events, the show centers around a group of women that work at the fictional News of the Week Magazine who are fighting for equal pay and opportunities to their male coworkers. You see, only males can be hired as reporters at this magazine company, while women are only hired as research assistants (who do the majority of the reporters' work). The women become angered when they realize they are getting paid three times less than their male coworkers even though they are doing a lot of the work, so they decided to file a lawsuit. The journalist and feminist in me knew this was my type of show.
I finished the ten episodes of Season 1 in two days. I immediately told all of my girlfriends to watch it. I had never watched such a unique and important show before, not to mention something that was still relevant to today's society. I couldn't wait for Season 2. As I googled when the new season would start, I found out the show had been…cancelled?! No, that had to be wrong. This show has a 4.5 star rating and was named one of the best of 2016 by Newsweek. Why would Amazon cancel a show that was generating so much positive buzz and doing so well? The acting was stellar, the plotlines kept me intrigued and the subject has never been more socially relevant. This show is just too GOOD.
I did a little more research on it, because it just didn't make sense to me. According to The Atlantic, Roy Price, head of Amazon Video, did not care for the show himself and did not watch it. When asked why the show was canceled, Price reportedly said it "wasn't performing at the level we had hoped for—either in total viewership or completion rates." Ok…but how can you cancel a show that you have never seen yourself? I also found that no women were involved in the decision to renew the series. This seemed a little odd to me since the audience of this show is predominantly female, and the subject of Good Girls Revolt revolves around women's issues. THIS IS WHY WE NEED FEMINISM, I shouted (seriously, I think I yelled that from my bedroom).
I was not the only one enraged by the seemingly meaningless cancellation of the series. After creeping on the Twitter and Instagram pages of Genevieve Angelson, who plays Patti in the series, I found that the cast was just as angry that the series was cancelled. In fact, they started a social media campaign with the hashtag #SaveGoodGirlsRevolt (yes I participated) to try to send a message to Amazon that the show has a fan base that is only growing.
Despite efforts to fight for Good Girls Revolt, the cast was disappointed to find out that they would not continue to play the characters that represented the fight for women's rights. Angelson recently spoke to Elle about the subject. She said "My wish, most of all, was to address the fact that Donald Trump was elected by women and that a lot of the sexism is internal sexism we direct toward ourselves. That's what I really wanted Dana [Calvo] and the other writers to illustrate on season two."
Now, perhaps the executive team that decided whether or not to renew the show just happened to be all male. I'm sure the men on that team were not sexist or against feminism in any way (well I hope not). However, this decision proves why we need a female voice. Good Girls Revolt demonstrated some very important issues that are still very relevant today. Perhaps men do not understand all of these issues, because they are not directly affecting them. Having a woman on that team would have been greatly beneficial, considering most of the show's fan base was made up of women. Cancelling a show like this destroys the possibility of teaching people about feminism in an entertaining and thought provoking way.
The cancellation of Good Girls Revolt is why feminism is needed, and proves that women are not represented equally as men today. This show was set over 40 years ago, yet women are still not paid equally, have to work twice as hard as men and are subject to discrimination in the workplace. While the show may be cancelled (for now), Genevieve Angelson has promised to continue Patti's legacy and stand up for what she believes in.
Although Good Girls Revolt is done for now, it is still the #1 show I recommend to my friends when they are looking for a new series to start. If you're looking for an inspiring, funny and thought provoking show with a kick-ass cast, go watch Good Girls Revolt (#SaveGoodGirlsRevolt!).