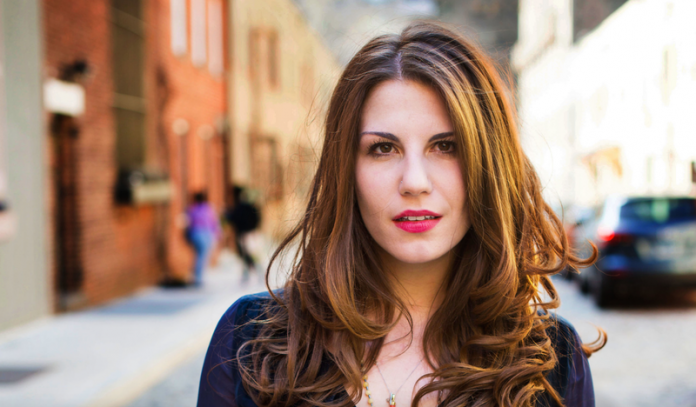 It's been a little over a month since Lauren Duca's Teen Vogue article, "Donald Trump is Gaslighting America", went viral. Criticism came, as expected, but it wasn't so much regarding the content of the article, rather than the placement. As one reader posted on Twitter, it came as a surprise to people that "a magazine about hairstyles and celebrity gossip" could produce such political coverage.
When Duca appeared on Tucker Carlson Tonight two days before Christmas, a similar notion was brought up. He referenced other articles that she had written, one, in particular, being about Ariana Grande wearing thigh high boots at Jingle Ball. He attempted to discredit her ability to write about politics based on other work that was about fashion or pop culture. He closed the segment by saying, "Stick to the thigh high boots. You're better at that."
Despite the unprofessionalism displayed by Carlson, that comment is part of a larger issue that a lot of female writers and women's magazines face. The belief that "women's journalism" is often seen as separate from "serious journalism". There's a misconception that a woman's interest in topics like fashion and beauty exclude them from being interested in politics. But the reality is, a woman's life encompasses all of those aspects, so why shouldn't the media that they're consuming do the same?
"I think that all women's media should be inherently politicized. It's weird that all content wouldn't involve the political," says Duca. "They're not in any way a separate thing, in fact, they often intersect. But even when it is, you're allowed to like thigh-high boots and be involved in politics."
She asks you to consider if the same is true for men and sports. Often, sports is the news and even then, a man has never had the difficulty of not being taken seriously for their work, or love, for sports.
Since the interview, Duca's inboxes have been inundated with harassment. She says not a day goes by that she can't open her computer without a negative comment about herself. People have gone so far as to send rape or death threats. Unfortunately, a majority of the harassment centers around her being a woman, and not the actual context of the interview.
"No one's surprised that I'm being harassed. Maybe by the scope of it, but it's almost a rule that if you go viral, you're going to get harassed if you're a woman on the Internet, you're going to get harassed. The reality is that it's okay to be hurt by violent harassment. There's power in admitting that it sucks."
What's especially admiring about Duca is her decision to respond to the negative comments, whether it's publicly or privately, in hopes of creating some kind of dialogue. While she's said that this has challenged her faith in humanity, and rightfully so, she's able to look at this kind of criticism in a positive way. The true definition of 'what doesn't kill you makes you stronger.'
"I'm hoping that this will ultimately be a good thing in terms of how I process all feedback. Even when others are weighing in on my work. Constructive criticism is great, but ultimately you can't be ruled by the negativity of feedback."
Along with the completely uncalled for responses, Duca has received a lot of positive messages as well. Comments like 'you're the role model I need' and 'I'm going to show this video to my daughter' have made all the difference when reading direct messages and emails about herself.
"It makes me feel almost not worthy, but it's also a reason to keep going. It's a dynamic process that's easier for me to talk about than actually do," Duca says.
She's been asked why she continues to allow people to direct message her or includes her email in her bio, but as a journalist, she's not willing to close herself off to open communication. And in terms of sharing all of the messages she's been receiving, she does so hoping it will help young, female writers.
"The goal is to silence me, both my voice and my views when I write, but also when I get harassed. I'm supposed to be alone behind the computer screen and I refuse to do that."
Her piece, "To Trolls, With Love" has been a cathartic part of the process and echoes the points she's been making all along. She writes, "This hurts like hell, but I'm in it now, and the support helps a lot."
If the past couple of days are any indication of the relationship between the press and the President, it's no surprise any journalist would be fearful of the changing administration. Duca likes to play devil's advocate when it comes to this question.
"I am fearful that he will limit the freedom of the press. It's unprecedented and terrifying, but if that is the case, I think there will be a greater tenacity in getting access through other channels. The White House isn't transparent under even the best president."
Duca explains that the goal is for the mainstream media to pursue other channels as opposed to accepting the information they get, whether it be through citizen journalism or social media.
"We don't have to fear the death of journalism. Journalism is about providing the public with information. It allows for democracy and a part of it will have to exist. There's a need for adaptation regardless, so I have faith."
Clearly, Duca isn't throwing in the towel anytime soon, and she doesn't encourage anybody else to either. To young, female writers especially, she says, "I can't imagine being anything other than a writer and if you feel that way, keep doing it."
Image courtesy of Lauren Duca