Around the start of every semester, recruiters from all kinds of companies flock to universities to attend job and internship fairs. From the other side of the table, they can get to know students, provide information on their organization, and eventually interview who they select as the cream of the crop. But, it's not always that simple.
Let's be real: career fairs are stressful. They can be even more stressful than actual interviews. They can make you feel awkward and shy; the fact that I'm so obviously in competition with my peers personally makes me super uncomfortable. And then I have to go and impress the scary recruiter in less than 30 seconds? Someone please hold my hand.
Wearing the wrong outfit doesn't help. But wearing more comfortable clothes can help you feel a million times better in an uncomfortable environment. You don't want to have to worry about your button-down gapping awkwardly over your chest or having to stumble around in painful heels, and you don't want to be sweating in a stuffy blazer and become all flustered. A good outfit makes all the difference.
Sometimes it's simple things like wearing the right clothes that can help you regain your confidence. Use the following tips to take your business-casual in the right direction, and then go knock the recruiters' socks off. You got this!
If you're wearing pants, go for cropped trousers
Few fashion crimes are greater than a pair of ill-fitting pants. Thankfully, cropped trousers are officially in. Skip the stress of going to the tailor to fix your too-long slacks and go for a sleek pair of cropped skinnies instead. This look is universally flattering, not to mention super trendy. It's also a good way to subtly stand out in the crowd.
(Also, these are perfect for those of us of shorter stature. Fellow short girls, where you at?)
If you're wearing a skirt, it should fall just above the knee
AND ABSOLUTELY NO SHORTER! I'm sure your legs are beautiful, but showing too much of them is not deemed professional in the society we live in. Additionally, wearing a skirt that's too long is just as bad. Show off those calves to avoid looking too frumpy. And no matter what height you are, wearing skirts right above the knee is a rule of thumb that works for everyone.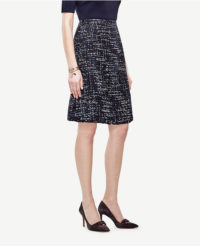 Flats, flats, flats!
Career fairs are not the place to wear high heels. You may be well-practiced in wearing them, and you may have a go-to pair that you swear is comfier than they look. But don't kid yourself—flats are right behind sneakers in being the comfiest shoes in the world, and you're 100 times less likely to fall in them. Plus, flats are hella cute. Go for a cool pair of Oxfords, suede loafers, or traditional black ballet flats. But please, no heels higher than an inch. Save those classic black pumps for when you're actually at the office.
(Target)
Go for a simple blouse or button-down
There's no need to go all out with crazy patterns or bold colors. If it's early fall or spring, choose creams and pastels; if it's colder outside, choose rich, dark colors and greys. Plus, if you keep your top a neutral color and pattern, then you can accessorize with fun statement jewelry or bright colored shoes that also serve as conversation starters. Additionally, keeping your sleeves at a regular t-shirt length or long shirt sleeves rolled up just below the elbow will give you a casual and professional look.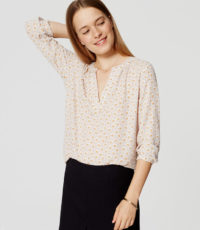 (Loft)
Paint your nails a unique color
Years ago, someone gave me the advice to paint my nails an unusual color—something besides the usual red or pink—so that when the recruiters looked down at my hand to accept my resume, seeing the color would help visually cement the memory of our interaction. It's worth it to stay up just a little longer the night before a career fair to paint your nails periwinkle or bright yellow or black or forest green.
Good luck at all your career fairs! You're going to be amazing.