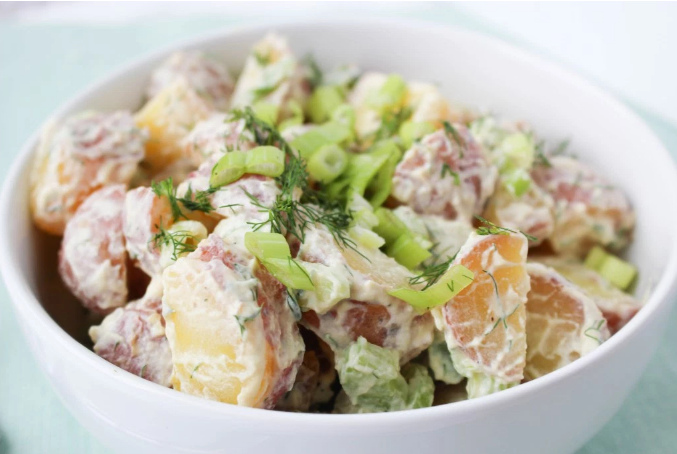 I've put greek yogurt in smoothies, I've put it in muffins, but today – I'm putting it into potato salad. I've always loved potato salad, but I've also questioned whether or not there's a healthier alternative to a salad doused in mayonnaise. GUYS! I did a little research, and the average mayonnaise brand contains 720 calories in a  1/2 cup. Swapping out 1/2 cup of mayo with 1/2 cup of greek yogurt drops the calories from 720, to 67. *pause for jaw drop*
Apart from the fact this revamped potato salad is a lighter, more delicious version of a classic potato salad, it's the perfect thing to store in your fridge for a quick after class snack. When you have a test to study for, a practice to attend, and a million more things on your to-do list, the last thing you want to be doing is cooking. Whip this up over the weekend and keep it in your fridge all week. Check out the super simple recipe below!
Ingredients: 
12-20 baby red potatoes
½ c greek yogurt
3 T honey mustard
2 T chopped fresh dill
2 stalks of celery, diced
chopped green onion (optional)
salt and pepper
Instructions:
Wash potatoes
Add potatoes to large pot and cover with water
Bring to a boil, then reduce to a simmer and cook for 15 minutes
While the potatoes cook, combine greek yogurt, honey mustard, fresh dill, celery, green onion, salt and pepper in a large mixing bowl
Remove potatoes from stove, and drain water
Allow to cool for a few minutes before handling
After cooling slightly, cut each potato into bite size cubes
Add potatoes to greek yogurt mixture, and stir to combine.
Refrigerate until ready to eat, enjoy!