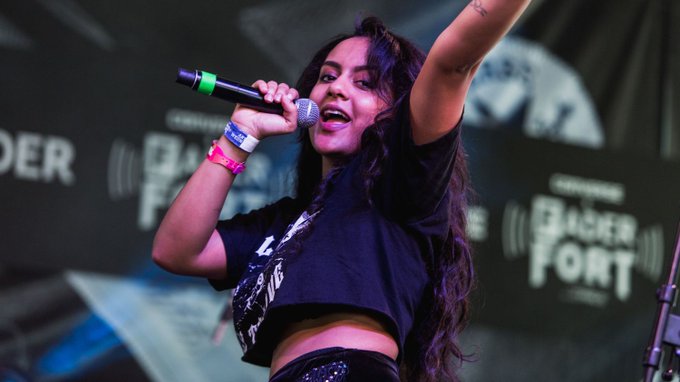 Girls rock. Really. But with Spotify, Apple Music, and social media making brand new music available at your fingertips daily, the influx of awesome new artists can get a little overwhelming. Lucky for you, the Lala is here to help with 5 female artists that need to be on your radar.
Joseph
What could be better than one girl making really great music? Three sisters with killer talent coming together to make really, really great music. Allison, Meegan and Natalie Closner released their first album together in 2014, and since then have performed at festivals like Bonnaroo and Glastonbury, toured with James Bay and have been named a 2016 Spotify Spotlight artist. Their sophomore album I'm Alone, No You're Not debuts Friday, August 26th and is full of tracks with beautiful harmonies and delicate choruses.
Lucy Dacus
Lucy Dacus's debut album, No Burden, was recorded in one day. One. Day.  One day, and it's garnered attention from Rolling Stone, Pitchfork, Spin, and now, the Lala.  She's already performed shows with The Decembrists, had a set at Lollapalooza, and will be performing at Austin City Limits in October. The 21-year-old indie rock vocalists took a semester off of school, to write, work on her record, and travel- awesome, right? Listen to "I Don't Wanna be Funny Anymore," and then be sure to check out her Tiny Desk Concert on NPR.
Bibi Bourelly
Surely you've jammed to Rihanna's song "B*tch Better Have My Money." But do you know who wrote it? Bibi Bourelly, the badass 18-year-old singer songwriter from Berlin. In addition to Rihanna, she's worked with artists including Selena Gomez, Lil' Wayne, and Kanye West. In addition to BBHMM, Bibi also wrote the song "Higher" for Rihanna's album anti when she was only 19. Now she's 22 and she's doing her own thing. The first of her two-part EP "Free The Real" is available now.
Era Istrefi
Speaking of RiRi, Vogue dubbed Era Istrefi the "Eastern European Rihanna." Her voice has garnered many comparisons to artists like Rihanna and Sia, and her song "Bonbon" is what drew Ultra Music to listen to her work and later sign her. Originally in Albanian, Era redid "Bonbon" in English, and remixes from Post Malone and Marshmallow have since been released.
Jane XØ
It's hard to say much about Jane XØ, because no one really knows who she is. The mysterious producer appeared on Soundcloud 5 months ago, leaving us with this:
"Being able to express myself musically without limits, no worries of judgement, no worries of success or failure is why I remain behind the wall of anonymity. I hope you enjoy the first part of my story."
While we may not know much about her, we do know that she's making a huge splash in the electronic world.