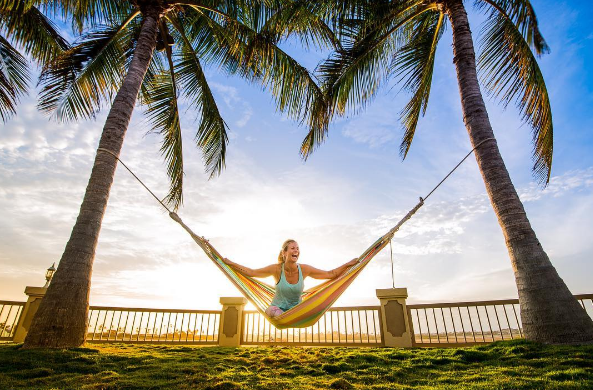 One of the most undoubtedly relaxing parts of yoga is the ending Shavasana. This pose, the final one of your practice, is meant to rejuvenate, giving you newfound energy to tackle what life gives you next.
That inspiration can also be found in quotes, stories and pictures to get you moving and stretching. Follow these motivational yogis on Instagram for serious encouragement and renewal when you maybe can't make it to yoga class.
1. @yoga_girl
With two million followers on Instagram, a New York Time's best-selling book and several charitable organizations under her belt, Rachel Brathen is no stranger to enlightening her followers in order to help her make a difference in the world. She often posts raw and real stories of her own life, not just the good times, but also the bad. Her honesty, plus her meditation posts, will leave you truly inspired to trust what life throws at you.
2. @elle_fit
This Australian yogi shares her experiences with chronic fatigue, stress and scoliosis in addition to upbeat sayings, backbends and sunny beach pictures on her page. Not only will you want to work on your own backbends and flexibility, but you'll be craving the beach hardcore. As her bio states, "stretch more, stress less."
3. @jessicaolie
In addition to posting pictures of her insane flexibility, Jessica Olie shares the cutest and reassuring sayings and drawings. Not only does she keep her posts updated fairly often, but her Instagram stories also provide motivation for you to get on your mat. She often shares progress posts, so get ready to be inspired to document your own!
4. @the_southern_yogi
Following the trend, Morgan also updates her followers with quotes, pictures and yoga progressions, including her own! However, she also shares stories about her yoga travels and her pets. Some of her coolest posts, though, are about acryo yoga. She is not afraid to balance, soar and flip in the air, and maintains her poise while doing it. Grab a partner and try out some of her moves as a flyer!
While taking the time to practice yoga, even for a few minutes, is best, these four yoga ladies can help you refresh your mind and spirit all while scrolling through your Instagram.