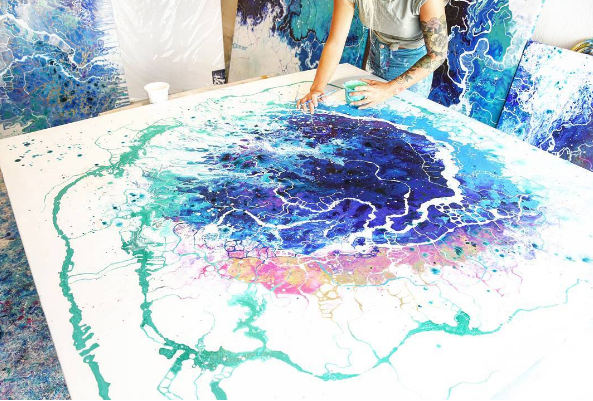 In need of a little creative inspiration, girl power, or perspective? Well then look no further because this list of 10 AMAZING female contemporary artists from across the spectrum is bound to give you all three and liven up your Insta feed. Give them a follow and think about spreading the messages they portray through their craft because unfortunately the glass ceiling still exists in the art world and these women (as well as many others) deserve to be celebrated for their talents.
Also, there is no particular order to this list because they are all the bomb-diggity.
ANNE BENGARD
@anne_bengard_art
An awesome watercolorist based in Berlin, Anne uses a luminous pastel palette to create striking images that explore social norms and prejudices.
TATYANA FAZLALIZDEH
@tlynnfaz @stoptellingwomentosmile
Creator of the "Stop Telling Women to Smile" Project, Tatyana uses street art as her method of getting her powerful feminist voice out into the world.
ROXX
@roxx_____
If you are looking for an impressive one of a kind tattoo, look no further. Roxx is a master of her craft using the human body as her canvas.
CHRISTINA MROZIK 
@christinamrozikart
A mixed media artist, Christina explores the relationships that shape within the natural world as well as the theme of life and death.
ALYSSA MONKS
@alyssamonks
A true oil painter, Monks focuses upon the subject of intimacy with a soft and emotional quality in her vast portfolio of works.
MEREDITH MARSONE
@meredithmarsoneartist
Meredith is another oil painter interested in the human experience. Her ethereal works leave the viewer in awe of her technique.
EMMA LINDSTROM
@lindstrom.emma
Lindstrom is an abstract artist based in Sweden. Her beautifully expressed works are all focused upon life and energy.
ELLY SMALLWOOD
@ellysmallwood
A Canadian artist focused upon the human form, Elly's works are extremely personal as they originate from her mind, body, and those around her.
SHANTELL MARTIN
@shantell_martin
A conversation creator, Shantell Martin's work is a combination of fine art, performance art, and technology. You can find her drawing on literally anything!
https://www.instagram.com/p/BJRhH8FAHaI/
TEIL DUNCAN
@teilart
Teil Duncan's paintings are abstracted figurative works inspired by light, color, and social interaction. Her creations are sure to brighten your day.